Our company
Dothée S.A. is a family business that has specialized since the beginning of its creation in the manufacturing of industrial paints for railways, bridges and highways.
Taken over in 2000 by Dr Philippe Rondou, the company specialized more in technical water-based paints to have become today a highly specialized company exporting more than 85% of its production on 5 continents.
It is under the RD Coatings brand, a range composed exclusively of high-performance water-based paints, better for the environment and safer for its users, and thanks to a policy of constant innovation, that the company has become an internationally recognized player in the high performance paint market.
Research & development
Research and development are at the heart of our business. We have a team dedicated to finding innovative and efficient solutions, allowing us to respond to the most common requests to the most complex.
Performing tools
Flexibility is central to our business. Whether it's a few kilograms or several tons, thanks to modern production tools, our production and logistics departments are on the alert to respond to your requests very quickly.
Customer service
A very accessible team, available, and at your disposal to guide you and advise you on the best solutions. Technical support that assists you on site and makes the link with research & development to provide the most adequate solution.
1946
Our story begins in 1946 on the banks of the Meuse river in Jambes when the Dothée family decides to start the production of industrial paints necessary for the reconstruction of the infrastructure destroyed during the Second World War.
For more than fifty years, the Dothée factory has been a privileged supplier to major contractors such as railways, the Ministry of Public Works, infrastructure, etc.
Dothée specializes mainly in anticorrosion paints, road markings and floor coverings for sports fields.
2000
In 2000, a new page turned with the takeover of the company by Dr Philippe Rondou, a specialist in industrial paints and particularly those in aqueous phase.
2004
At the instigation of Dr Rondou, a new factory was built in Assesse in 2004. It is equipped with modern production tools which allow it to increase its R&D capacities and start a real expansion of the company internationally. .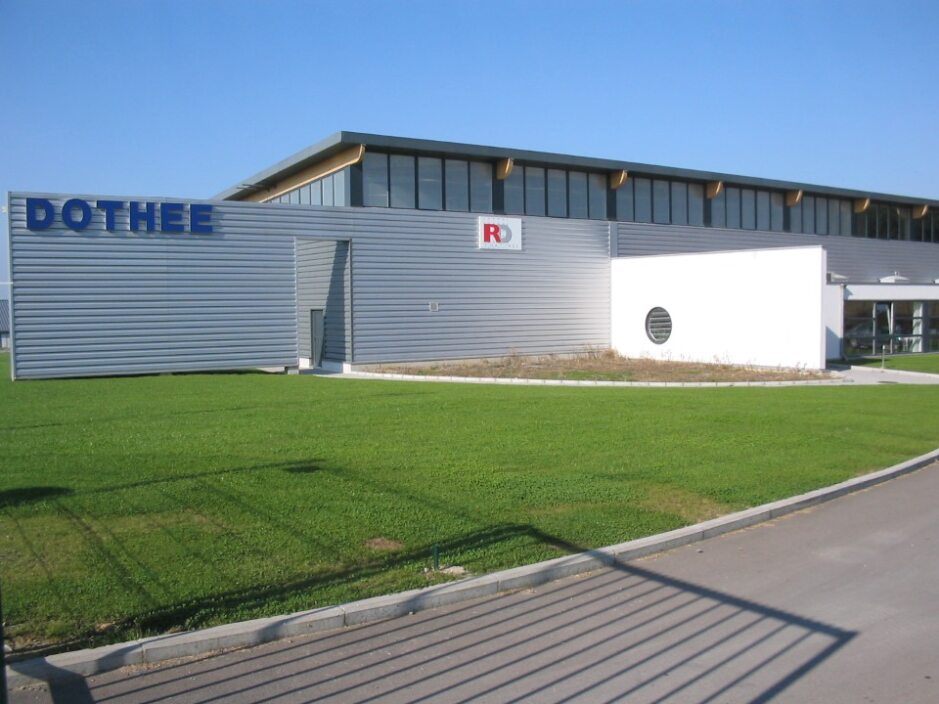 RD Coatings
Building on its specialization in water-based industrial coatings, the RD Coatings product range was created immediately to offer technical solutions, exclusively water-based, for the conservation of structures, construction and the maintenance of industrial, commercial and residential buildings and infrastructure, and the painting of various equipment.
2020
In February 2020, it was an opportunity to celebrate the 20th anniversary of the takeover of the company by Dr Philippe Rondou and the creation of the RD Coatings brand with almost all of our international partners.
Flexibility & Support
In the continuity of our family business spirit, and because we know what it means to work on site, to be confronted with the vagaries and the multiple facets of a project, we are proud to be able to offer maximum support to our partners. The whole company is behind our customers: production - research and development - sales department - technical department.
Performances & Quality
Our challenge is to offer you the best quality at the best price. High technicality, continuous R&D, innovative raw materials and latest generation formulations. Our products are made to last and preserve your goods for a very long time.
Eco-responsibility
We are committed to focusing only on developing products that are more favorable to our environment. We strongly believe that RD Coatings's water-based technology can compete and perform just as well, if not better, against solvent-based coatings, and we prove it! By replacing solvent-based products with our technology, you help reduce CO2 emissions and all the associated risks.
"The Brussels airport company regularly and successfully uses protective and waterproofing coatings from RD Coatings"
WHAT WE DO
RD COATINGS is the technical product range of paint manufacturer Dothée S.A., consisting exclusively of high performance water-based coatings for ANTI-CORROSION, CONCRETE PROTECTION and WATERPROOFING.
RD COATINGS has established an international reputation for advanced water-based protective coatings that have demonstrated their superior performance on various projects worldwide. The product line consists of high performance coatings developed to protect engineered structures, equipment, commercial and industrial facilities, and the building envelope.
RD COATINGS' DNA is to offer products with high added value for a range of stakeholders:

- A comprehensive product line,
- Mostly single-package products,
- Simple application methods and limited downtime,
- Very high performance and durability,
- No solvents, less hazards and better for our environment.
High specialization degree
Continuous investments in R&D, our regular participation in extra-company research projects make our products very special. More than 70% of our production is exported all over the world such as Japan, United States, Denmark, Netherlands, South Africa, Poland.
References around the world
Skyscrapers in New York, bridges in Denmark, factories in Japan, wastewater treatment plant in Bulgaria, reservoirs in Belgium. Our coatings are developed to be applied on various projects and in different environments and climates!
100% water-dilutable products
A complete range of water-based paints. Our products can replace solvent-based paints on many occasions, offering our customers not only the ability to use more environmentally friendly products but also simpler and safer systems!
High yield & superior productivity
A product range composed mainly of single-component and 100% water-based coatings allows for easier, faster and more competitive project management. The high performance characteristics of our products, combined with these benefits, ensure our customers greater productivity and therefore competitiveness.
Our company has a very local presence and many residents of Namur and its region rely on Dothée paints to renovate and maintain their property.
Under our Paint & Co brand, we also produce high-quality decorative paints for homes and businesses. These paints are available in our factory outlet in Erpent.
We also support sport and local heritage by being connected to Hockey Namur, a dynamic and promising field hockey team at national level, and the Chemin de Fer du Bocq volunteer' association, which with the help of our paints are maintaining one of the most picturesque historic railway lines in Belgium!